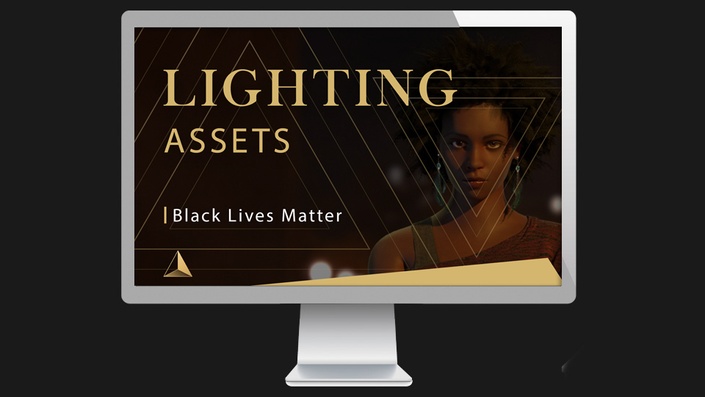 Academy of Animated Art Free Character - Woman In The Window
For Each Download, We Will Donate in Support of BLACK GIRLS CODE
Have you noticed how black skin-toned characters are not well represented in animated films?

Additionally, darker skin tones have also taken a back seat to how they are the best lit. The light setup for a light-skinned character does not translate well to a darker skin character, yet it's something that is rarely addressed or studied on how we can improve our lighting in these scenarios.
Academy of Animated Art would like to change this. Providing this asset for free is the first step.
We are offering this powerful dark-skinned female asset, entirely modeled, textured, and ready to be lit by YOU!

Let's start making compelling positive visuals to create awareness in all forms.
We can't wait to see what you create.

Please share it with us HERE in the lighting community and tag your creations on Instagram @academyofanimatedart

---
*You are free to post your work freely, but we do ask that you do give credit Academy of Animated Art for the asset when showing your work. Thank you!
**For non-commercial, educational use only
For Each Download, We Will Donate in Support of BLACK GIRLS CODE
When choosing who to donate to, we want to focus on education and how we can specifically bring more people of color into our industry. With this in mind, we choose to donate to BLACK GIRLS CODE. Not only are blacks underrepresented in the animation industry but women especially.

We hope that our donation will lead to more black women being able to be allowed to fulfill their dreams.


Thank you for being part of this.
Jasmine & Mike


Frequently Asked Questions
What is the file format of the asset? Will this work with the software I am using?
All of our downloadable assets are readily designed to be ready to light with textures! We made it a point, as lighters, to ensure that everything was ready to go so that our students can focus on one thing only - how to be a great lighter. I personally, have spent so many hours working on assets to light - that by the time I was able to light, I was exhausted and had little time to focus on lighting. You won't have that problem because we made sure of it! We also wanted the assets to be easily used across a wide variety of software and renderers. This is why we export the files as .fbx which is compatible with multiple software (Houdini, Maya, 3dstudio max, blender.. it doesn't matter!) and also we supply you textures so you can apply it with any renderer. We then supply you with a pdf that shows you how to create the shader in the renderer of your choice. Our goal is that we designed our assets to be software and renderer agnostic so you can use them in any format!  So, the answer is YES, it should work in your preferred software.
Can I post work done with this asset freely?
Yes, you can post any non-commercial use of this model. The only thing we ask is that you credit the Academy of Animated Art for the asset. Thank you!